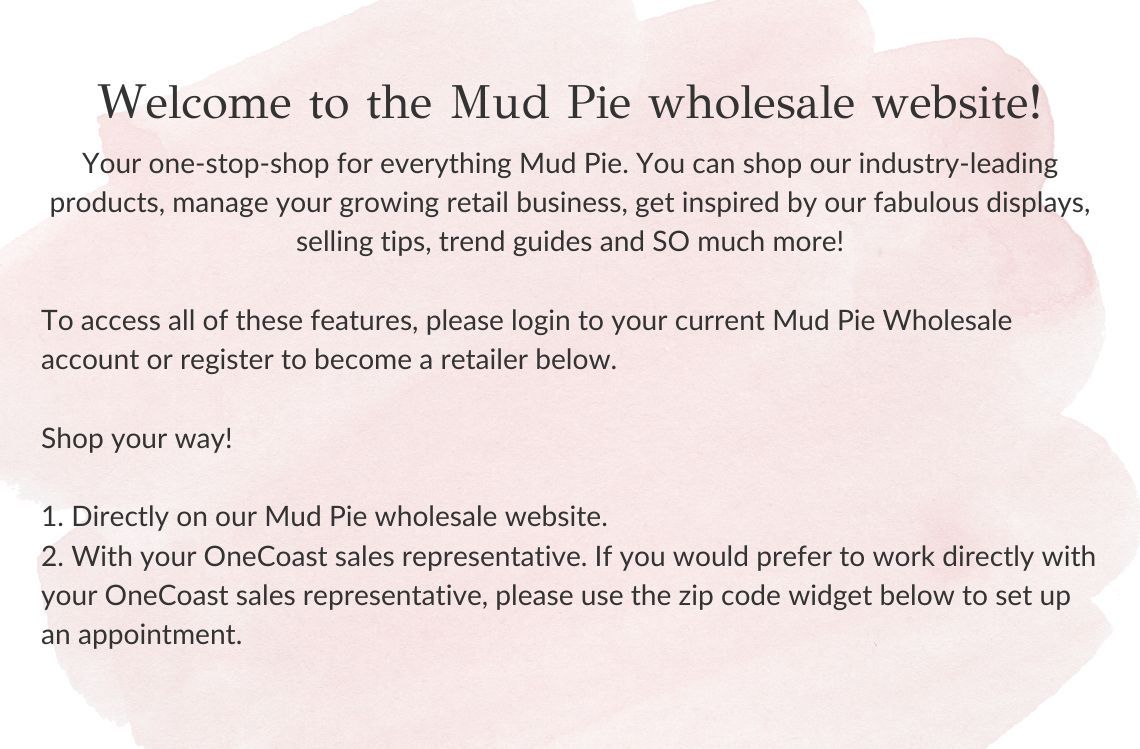 Returning Mud Pie retailer? Welcome back! Sign in below to gain access to our website.
New User

All prospective retailers must apply and be approved to become a Mud Pie Retailer. Select "Start Application" below to begin your application process.

Start Browsing New Arrivals

SIGN UP FOR SMS
Sign up for texts to be the first to shop new launches, get exclusive promotions and so much more! Click here to get signed up!
BOOK AN APPOINTMENT
We can't wait to see you! Whether it is at our show in Atlanta, Dallas, Vegas or online in our Virtual Showroom, we are so excited to show you our most recent collection. Click here to let us know where, when and how you would like to shop!
shop our catalogs
A collection of our newest items that are sure to be a fan favorite - check them out here!
Wholesale Suppliers

For more than 35 years, Mud Pie has been a leading wholesale supplier in the gift industry, creating delightful home decor, and kids' and women's products fit for every occasion. Each season, Mud Pie creates fresh, trend-forward styles for every store type. Mud Pie's mission is to inspire retailers to create a store full of beautiful products that their customers will love.

As a wholesaler, we put our retailers first, ensuring that our partners have access to a fabulous selection of products. We work hard to curate a variety of piece types in all three of our families of business, ensuring that you can find products that your customers will love. Our world-class selection of merchandise will satisfy all of your retail needs. We value high-quality, trend-forward products at competitive prices, and we know you do too.

Mud Pie also offers one-of-a-kind customer service, competitive pricing, and loyalty programs with promotional incentives. Mud Pie launches new items every season, and along with the new product, Mud Pie provides tools and resources for retailers so they can maximize selling opportunities. Get inspired as you learn more about Mud Pie.
Wholesale Home Decor

Mud Pie's home decor line is the largest of the Company's three divisions and includes more than 7,000 products each season. From decorative accessories to tabletop and serve ware, there are so many beautiful options to choose from. Our home decor ranges from clean and classic to daring and bold. Each season, Mud Pie reveals new products, unique designs, and innovative pieces your customers will love. When it comes to home decor, Mud Pie has everything from pillows and throw blankets to decorative bowls and preserved botanicals.

Mud Pie's design team is on the cutting edge of the home and decorative accessories industry. All Mud Pie products and prints are designed in-house by our wonderful product development team. Each season, our designers create gorgeous new pieces that can be merchandised with best-sellers from past collections. We always bring back our best sellers because we know you can sell them again and again!
Wholesale Baby Clothing

When it comes to buying for your store, you want to ensure that you have high-quality clothing that your customers will love. Mud Pie's baby and kids division has a variety of products that will leave your customers in awe. Every season, Mud Pie designers introduce a new collection of baby and kids products that are perfect for any gifting occasion–birthdays, holidays, christenings, and more!

Not only do we offer newborn and infant pieces, but we also offer toddler pieces as well. From crawlers and bubbles to dresses and pajamas, we have hundreds of styles that will meet your specific needs.

Did you know Mud Pie also makes kids' toys and gifts? We have so many fun piece types to choose from. Mud Pie's design team always stays on top of the latest and greatest trends for kids. From fun games to enrichment tools you'll love what Mud Pie has to offer. At Mud Pie, every day is a gift. We create a kids' gift collection that is sure to delight.
Wholesale Women's Clothing

Create the most beautiful boutique with women's fashion from Mud Pie. Each season, Mud Pie creates a new collection of wholesale women's clothing. Finding apparel vendors that meet your quality and price demands can be difficult. We balance the two, while providing customers with new styles, patterns and fabrics each season.

As your clothing vendor, Mud Pie can provide you with on-trend clothing for every season. Mud Pie aims to stay ahead of fashion trends and provide our retailers with trendy clothing and accessories. We pride ourselves on the quality and fit of our apparel. You can also find accessories that add the perfect finishing touch to any look–not to mention they will look great displayed in-store.
Holiday Wholesale

At Mud Pie, we think everyday events are worth celebrating, but we also love our holiday collections. Every season has something to celebrate whether it be graduations and baby showers or Easter and Thanksgiving. We also love holidays like Halloween and Christmas where you can transform your home into a spooky haunted house or a winter wonderland. Our Halloween decorations are the perfect introduction to the holiday season. With spooky pieces that make the perfect welcome for your ghostly guests.
Our wholesale Easter decor makes an eggcellent addition to your store. You'll find serving dishes, soft goods, home decor, easter gifts, and more. We can't help but obsess over our Christmas wholesale collection. We offer so many different styles of Christmas decor. You'll find classic Christmas decor and fresh pieces like our White Christmas and Sea Christmas. Did we mention we have gnomes for every season? Our best-selling gnomes just get cuter and cuter, each with their own personality and style.
Why Mud Pie

Mud Pie offers a large variety of original, in-house designed products. We are proud to be women-owned and operated, and always offer our retailers competitive price points. Our leadership team has more than 30 years of gift and decor industry experience. We have more than 50 awards recognizing excellence in the gift industry and are proud of our community involvement. Mud Pie supports organizations like the American Cancer Society, Operation Shower, Focus + Fragile, March of Dimes, and more.

Working with Mud Pie is a true partnership. We offer dedicated account managers, backed by an entire customer service team to focus on wholesale excellence. It's so easy to sign up to be a Mud Pie retailer! First, sign up for an account. Once you are approved, you can either make an appointment with your territory manager or fill your cart on the website. We offer a variety of new customer promotions that we know you'll love.