ORDERING
Minimum Order Requirements:
Opening Order: $1,000
Independent Online Retailer Opening Order: $5,000 (online only accounts)
Existing Account Reorder: $250
International Orders: $10,000
International Reorders: $5,000
---
FAQ | ORDERING & RECEIVING
How do I place my Mud Pie Order?
Mud Pie orders can be placed 3 different ways:
Through your Territory Manager
Online at https://wholesale.mudpie.com
Directly with Customer Experience at 1.800.998.1633
What important numbers should I note to reference best later when receiving my order?
Important numbers to note, as they will be referenced on all receiving paperwork:
The Purchase Order Number (This number can be customized or automatically generated by Mud Pie)
The Order Number
The Invoice Number
How will I know my Mud Pie order is processing?
Orders are eligible to be advanced for processing once the Requested Ship Date has been met. To review the status of an order, you will need to log into the Mud Pie wholesale portal at https://wholesale.mudpie.com.
Order Status and descriptions below:
Open: Order has not begun to process.
In Pick: Order has been advanced to the warehouse to begin the picking, packing, and shipping process. Processing time can vary depending on the size of the order and time of year the order has been advanced for fulfillment.
Partially Confirmed: Order has invoiced and contains backordered items awaiting fulfillment.
Completed: Order is closed.
Example of Mud Pie wholesale portal below:

I have started to receive my order, now what?
Mud Pie ships as we process. This means you may receive your order across several days. Every day Mud Pie ships product from an order, you will receive a Shipping Manifest via email (Fun fact! Mud Pie is a paperless company). The purpose of the Shipping Manifest is to best provide you tracking, product, and pricing information so you can immediately accept product upon arrival.  Mud Pie suggests utilizing the Shipping Manifest to best accept FedEx/UPS Ground shipment orders.
How do I utilize the Shipping Manifest?
The subject line of the Shipping Manifest email will include the Mud Pie Order Number and the Purchase Order Number to make it easy to identify what order is processing and shipping.
The email will include the Shipping Manifest document that provides details of every carton shipped so you can best prepare to receive product. This detail includes Tracking Numbers, Carton Numbers, along with Carton Contents and Mud Pie's Manufacturer Suggested Retail Pricing (2 x the original wholesale price). Retailers are encouraged to price items at their own discretion. Please note that MSRP does not include any secondary invoice costs such as freight
Because Mud Pie ships as we process, you may begin receiving product before the invoice posts to your account. To reference your specific prices, please utilize a copy of your order. Log in to your wholesale portal, then select MY ORDERS in your retailer dashboard. You can then view and/or print your order copy.
Example of Shipping Manifest and information to reference below: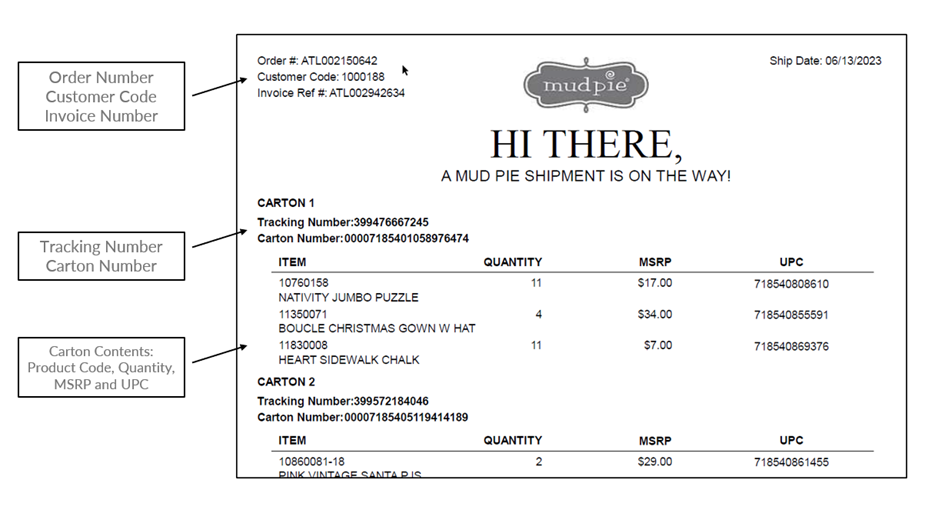 Carton Labels can be matched to their corresponding Shipping Manifests by referencing the Tracking Number. Carton Labels also include the Purchase Order Number and Invoice Number.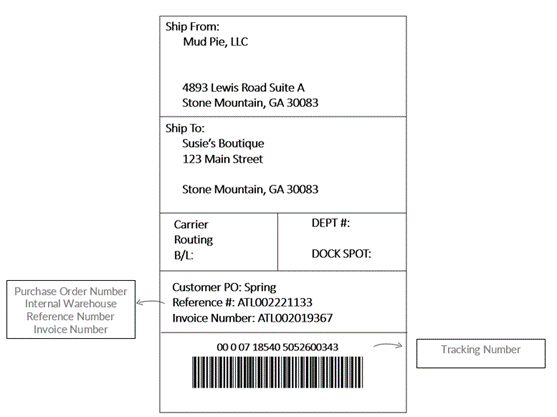 What happens when my order has completed processing?
When the last carton leaves the Mud Pie distribution facility this triggers both the Packing List and the Invoice to be sent via email.
How do I utilize the Packing List?
The subject line of the Packing List email will include the Order Number and Invoice Number.
The Packing List is a summary of all items shipped against the Invoice. You may have already started to partially receive your order when the Packing List is emailed. Mud Pie suggests utilizing the Packing List to best accept pallet shipment orders. Example of Packing List and information to reference below: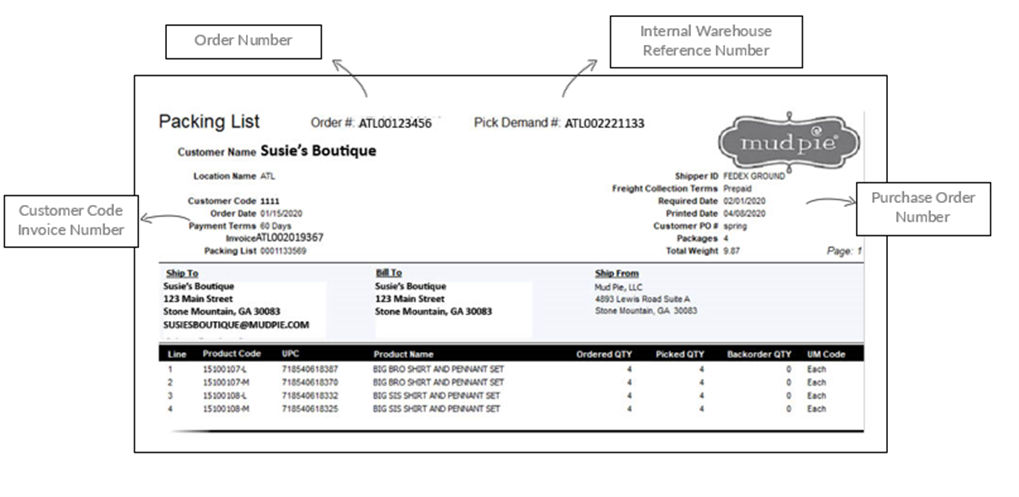 How do I utilize the Invoice?
The subject line of the Invoice email will state Your Mud Pie Invoice.
The Invoice will reflect the Product Names, Product Numbers, and the Price charged for each item. The Invoice will also include any Freight Charges incurred on the order.
Example Invoice and information to reference below: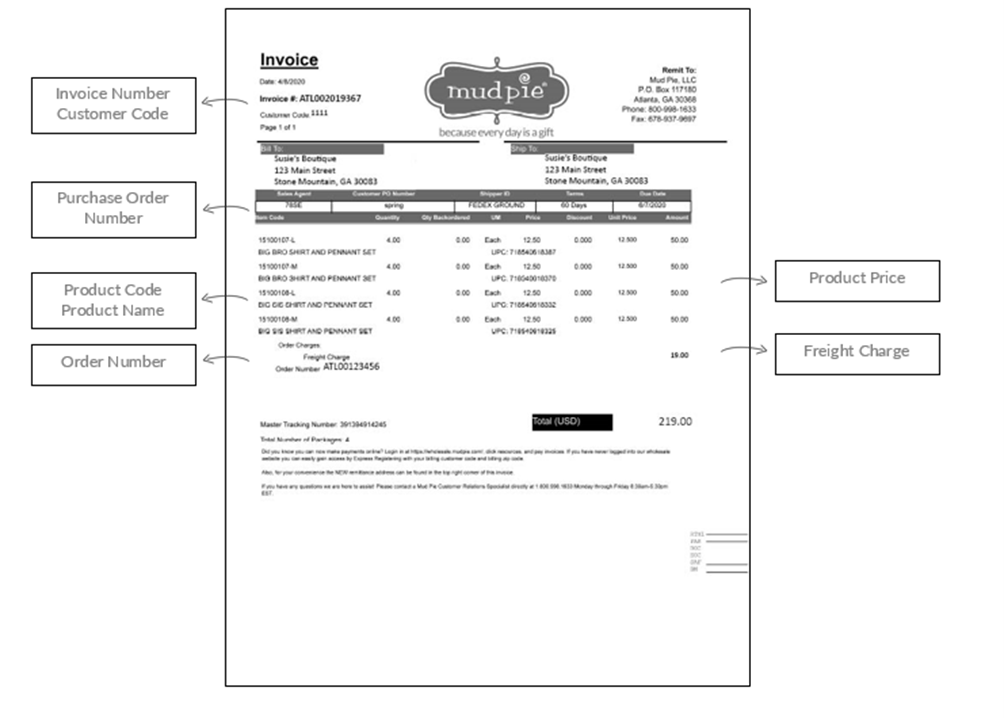 How do I claim a damage or a shortage?
A damage or shortage can be claimed 2 different ways:
Through the online form that is located under Customer Service on the wholesale portal:
https://wholesale.mud-pie.com/customer-service/forms/damage-claim-form
Directly with Customer Experience at 1.800.998.1633
In order to process your claim efficiently, you will be asked to provide your customer code, your invoice number, and product codes.
For any additional questions please call the Customer Experience Department Monday thru Friday 10:00am – 4:30pm EST at 1.800.998.1633. Or chat with us LIVE via the Mud Pie wholesale website.