Join the team!
Tremendous brand equity, on-trend product offerings and our talented staff continue to fuel our success.  We believe great people and product create great results. We are looking for highly motivated individuals who enjoy a progressive work environment and bring the best attitude and effort to work every day.
---
Corporate Headquarters - Stone Mountain, GA
Essential Duties and Responsibilities:


Inventories & proofs Mud Pie's 7 catalogs per year for the Womens, Home and Kids lines


Assists with merchandising layouts and works closely with creative and production agency


Works closely with Womens, Home and Kids merchandisers to understand new product concepts and functionality, and attends meetings with merchandisers on seasonal collections (Spring/Summer and Fall/Holiday)


Utilizes organizational skills to keep close track of all catalog revisions and edits


Assists with presenting photography direction to production agency and assists with kid model booking procedures


Updates master lists and shared documents as needed, and uploads images consistently to the internal server for catalog, marketing and web needs


Acts as communication liaison between all internal departments including warehouse, sales, inventory, marketing and upper management.


Assists in training the Catalog Production Assistant


Requirements:


2+ years of experience in related position


Bachelor's Degree in fashion merchandising or related field


Comfortable in the Microsoft Suite, Google Docs, etc.


Excellent verbal and written communication skills and excellent organizational skills


Ability to brainstorm and work on tight deadlines while fostering team culture


Ability to work on on deadlines and juggle multiple projects at once


General understanding of the product development process preferred, but not required


Ability to understand current fashion market and future consumer trends


Organization with a dedication to details and final product quality


Flexibility and a positive attitude under pressure


Ability to work at Mud Pie HQ and off-site creative agency


 


Interested and qualified candidates should send a letter expressing their interest with a cover letter and resume to humanresources@mudpie.com
Position Summary:
Mud Pie is hiring enthusiastic, positive and motivated individuals to join our Sales and Customer Experience Team. The Customer Experience Specialist will support the sales team and work directly with buyers at specialty retail stores nationwide.  They will handle incoming/outgoing calls and emails, manage inquiries and resolve concerns as well as upsell products to promote the sales of Mud Pie merchandise. Some administrative projects may be assigned on an as needed basis. It is imperative that the Customer Experience Specialist possess strong communication skills, has an eagerness to learn and is team-oriented
Essential Duties and Responsibilities:


Serve as the #1 Brand Ambassador to customers, Mud Pie retailers, and the sales force


Direct liaison between the independent sales channel and Mud Pie home office


Develop and maintain relationships with customers, buyers, and territory managers


Support territory managers in building, growing, and developing customer accounts


Collaborate with the Mud Pie marketing team to echo promotional activity


Partner with the Mud Pie product development team to understand product lines each season in order to promote sales and respond to product related inquiries


Work major home and gift international tradeshows, specifically at Mud Pie Showroom Campus in Atlanta's AmericasMart


Participate in small call center environment handling incoming calls and emails from customers and sales organization


Open new customer accounts and maintain existing customer files and account data


 


Requirements:


Bachelor's Degree preferred or 2 years equivalent work experience in a customer service, marketing, or sales position


Experience in ERP and/or inventory management systems preferred


Excellent and proper verbal and written communication


Strong organizational, problem solving, and time management skills


Solution oriented and demonstrates strength in methodical thinking to achieve a goal


Proficient in Microsoft Office, specifically Excel and Outlook programs


Ability to remain positive and focused in a fast paced environment


Confident problem solver that proactively resolves issue


Fosters team environment and can facilitate brainstorming


 


Interested and qualified candidates should send a letter expressing their interest with a cover letter and resume to humanresources@mudpie.com
Essential Duties and Responsibilities:


Strong verbal and written communication skills


Familiarity with current color, font and print trends and styles


Ability and desire to continually gather market data on key fashion and home trends


Translate trends into concepts that fit the Mud Pie brand


Strong creative vision including style, color and pattern direction


Versatility and resourcefulness in design styles and techniques


Ability to work independently with minimal direction


Ability to work efficiently, accurately and within budget


Proven ability to multi-task under deadline pressure with excellent follow through


Identify piece types and products for development


Prepare presentation materials for line previews


Responsible for sample review and approval


Develop SKU-level designs with a proven ability to build an assortment


Requirements:


Bachelor's Degree in Industrial Design or related design field


Will consider entry level candidates, with the right experience that are willing to grow with Mud Pie


Ability to manage product design in fast-paced as deadline driven environment


Works well with a team but independently with minimal direction


Proficient in Adobe Creative Suite


Proficient with InDesign, Illustrator and Photoshop


Interested and qualified candidates should send a letter expressing their interest with a cover letter and resume to humanresources@mudpie.com
Are you interested in representing Mud Pie?
For interest in becoming a Wholesale Territory Manager or Sales Representative for Mud Pie, please CLICK HERE to search current opportunities available.
The Mud Pie Summer Internship Program offers college students an opportunity to gain significant work experience in a number of roles integral to Mud Pie's business operations.
Program Description:
Mud Pie offers a 10-12 week summer internship opportunity for students interested in pursuing a career in the wholesale import, product development and e-commerce industries. Interns work with specific departments within Mud Pie that match their coursework, experience and career interests. During the internship, students will work closely with Mud Pie employees, including senior staff, to complete a variety of practical assignments that will put students on the path to professional success. Interns will also be able to participate in professional development workshops, lunches with company leadership and other activities held over the course of the summer.
Eligibility:
In order to be eligible for the Mud Pie Internship Program, interns must be full-time students actively working towards a graduate or undergraduate degree at an accredited college or university, with at least a 3.0 GPA. Undergraduate applicants must have completed at least six semesters of undergraduate coursework. Interns will need to bring their own laptop.
Compensation:
Mud Pie is proud to offer paid internships. Interns will be paid at an hourly rate.
How to Apply:
We are not accepting applications for summer internships at this time.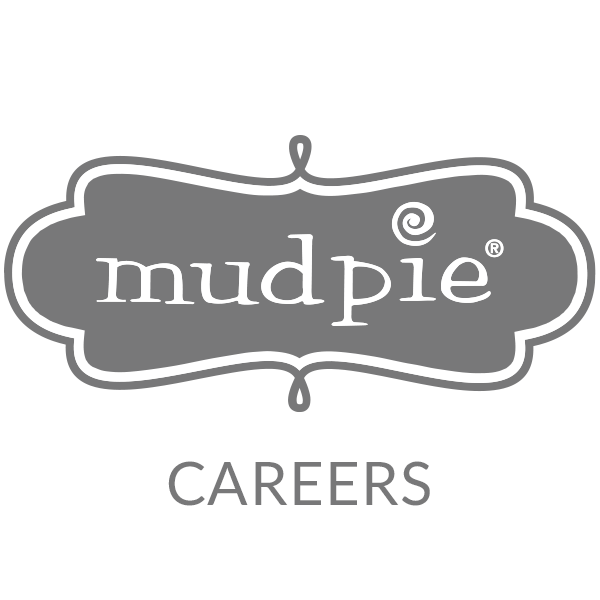 Mud Pie is an Equal Opportunity Employer and does not discriminate because of age, color, disability, ethnicity, marital or family status, national origin, race, religion, sex, sexual orientation, military veteran status, or any other characteristic protected by law.